Editor's note: this is a preview post. Click here to read the full review.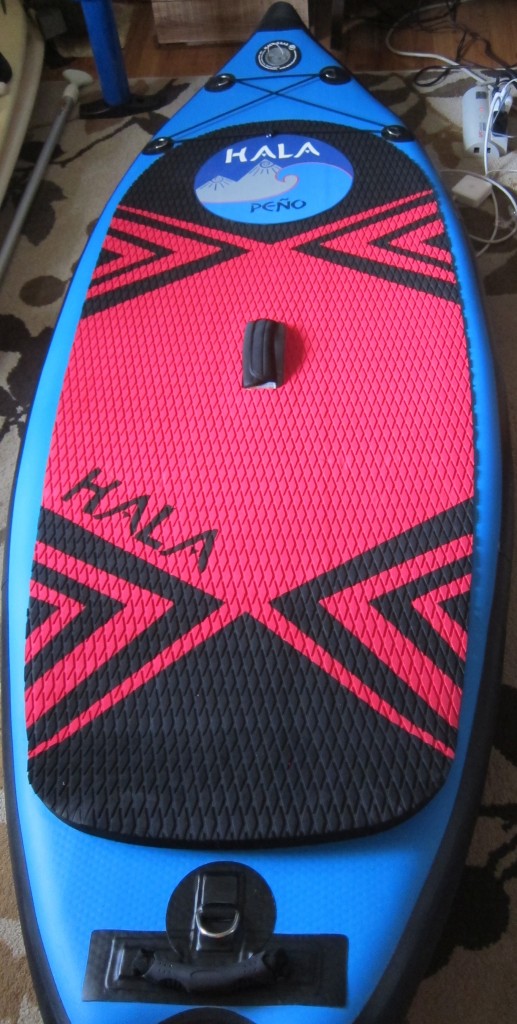 Hala has been making unique inflatable boards for awhile now. So it was no surprise that they were the first (that I know of) to offer a sub 8 foot, river surfing specific, inflatable SUP. The Hala Peno has been around since last season, but this season it'll have a lot more competition with short, inflatable, river surf SUPs being offered from Badfish, Glide, Paddlestroke and others.
I spent a lot of time river surfing last season. From early season (when the water was low and rocky) to mid-run-off (when the water was full of logs and trees), my hard boards took a beating. My epoxy Starboard Impossible, which was brand new at the beginning of last season, now looks like a trashed beater board with years of use.
This season I'm going to try surfing inflatables during the times when my boards take the worst beatings. The Hala Peno was an obvious choice: it's inflatable, short, locally made, and has a proven track record. The Peno will obviously be able to take all the abuse river surfing has to offer. I think the 7'11" will be able to fit in most of the local holes and waves we have on the nearby creeks, but only time will tell.
The short length also keeps the board from feeling like a waterbed. When I first started SUPing a few years ago, the spongy-ness of inflatables always kept me away from them. After surfing many different inflatable boards, I now know that there are three basic factors that contribute to that wet-noddle feeling in inflatable surf SUPs: PSI, thickness, and length. PSI and thickness are pretty obvious, the thicker the board and the more pressure it has, the stiffer it'll be. Length is the opposite: the longer the board the more slop it'll have. I came to this conclusion after demo'ing both the Hala Peno and the Badfish IRS. These shorter inflatables don't flex as much because they are so short.
At 33″ wide and 6″ thick it should be fairly stable and easy to paddle. It also has the option of putting in a center fin to help tracking. The Peno should be a good, fun board to teach new river surfers on.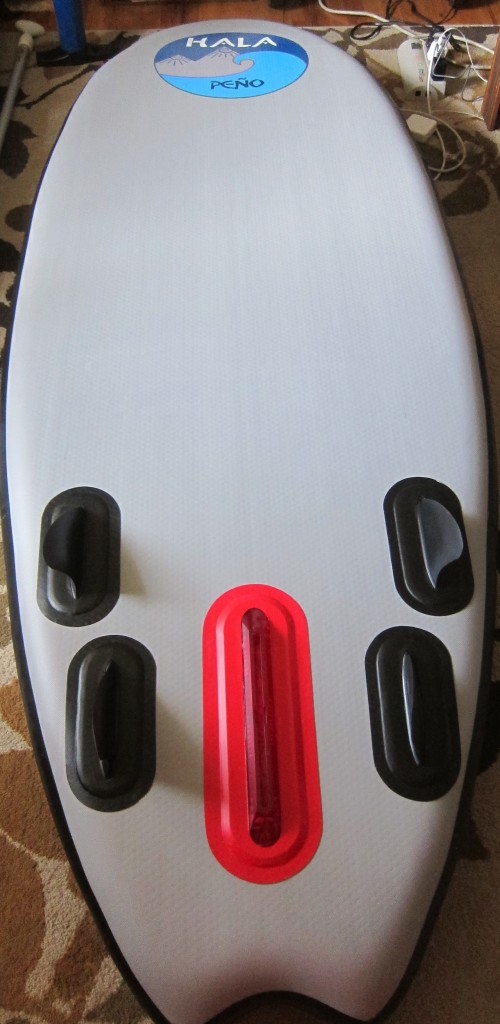 For advanced riders, I'll be interested to see if the board is as fun. It's longer than I usually surf and the 4 permanently fixed side bite fins (while extremely durable) will make doing tricks (like grinds and 360s) more difficult. I'll be trying everything on this board, so I'll have to wait and see.
My hope is this will be a great all around river surf board, like the Badfish MVP-S but in an inflatable package (read my review of the MVP-S and the reason why it's my recommended beginner river SUP surf board). I've found a Badfish MVP-S can surf almost any wave, but is rarely the best board for a wave. I know that if I bring the MVP-S I will be able to surf, but I also know that I'd have more fun if I was surfing a different board. It's a good choice when exploring new waves that you have no info on. If I can surf anything on the Hala Peno, then it will get rolled up and thrown into the car on almost every surf trip rather than having to haul extra hard boards.
This is a preview post. Click here to read the full review.