Brittany Parker is a Badfish SUP sponsored athlete living in Glenwood, Colorado. She paddles everywhere, instructs, and stars in river SUP surfing films! I called her up a couple weeks back to chat about rivers.
How did you get started with SUP?
I started out as a raft guide, which was my first real experience on the river. While I was guiding a trip, I ran into some people who were standup paddling and thought it looked like fun. From that group I met Shane Ebrahimi of Shaboomee SUP who invited me out paddling. He took me out and let me use all his gear. We did a class 2/3 stretch and I was totally hooked after that! I started padding almost every day.
The next season, Shane encouraged me to enter the Rocky Mountain Surf Festival competition that used to be held in Glenwood. That was my first competition. I paddled a Costco Wave Storm, wore a giant dry suit that was way too big for me, had a high float PFD and a paddle that was duct taped together. It was pretty funny, but I did well. After that I couldn't get enough. It started to become my full focus.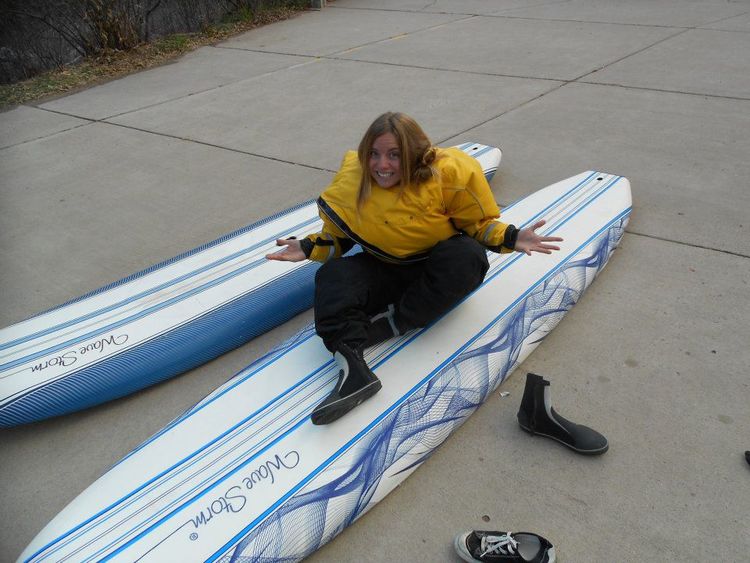 Brittany showing off her borrowed gear early in her SUP career
Did you take up river surfing before ocean surfing?
I surfed once before in the ocean, but only on a longboard. Then I picked up river surfing. I was really interested in Badfish. I was going to all the events, and I saw them surfing. I've always wanted to surf, so I started talking to them and borrowing boards and almost stalking them so I could use their demo boards.
What draws you to river surfing?
I like the simplicity of it. There's not a lot of planning involved. I like the fact that I can pull up, park my car, and surf all day. You don't need to plan a shuttle, you don't need too much gear, and you can take breaks and BBQ or drink some beer… then go back out!
It's a good way to hang out with friends and connect with people. Everyone's hanging out in one space, and everyone's cheering each other on. The most special part of river surfing is the community and how everyone is so close. There's not much aggression; everyone respects each other and we're all friends. That's what appeals to me over ocean surfing.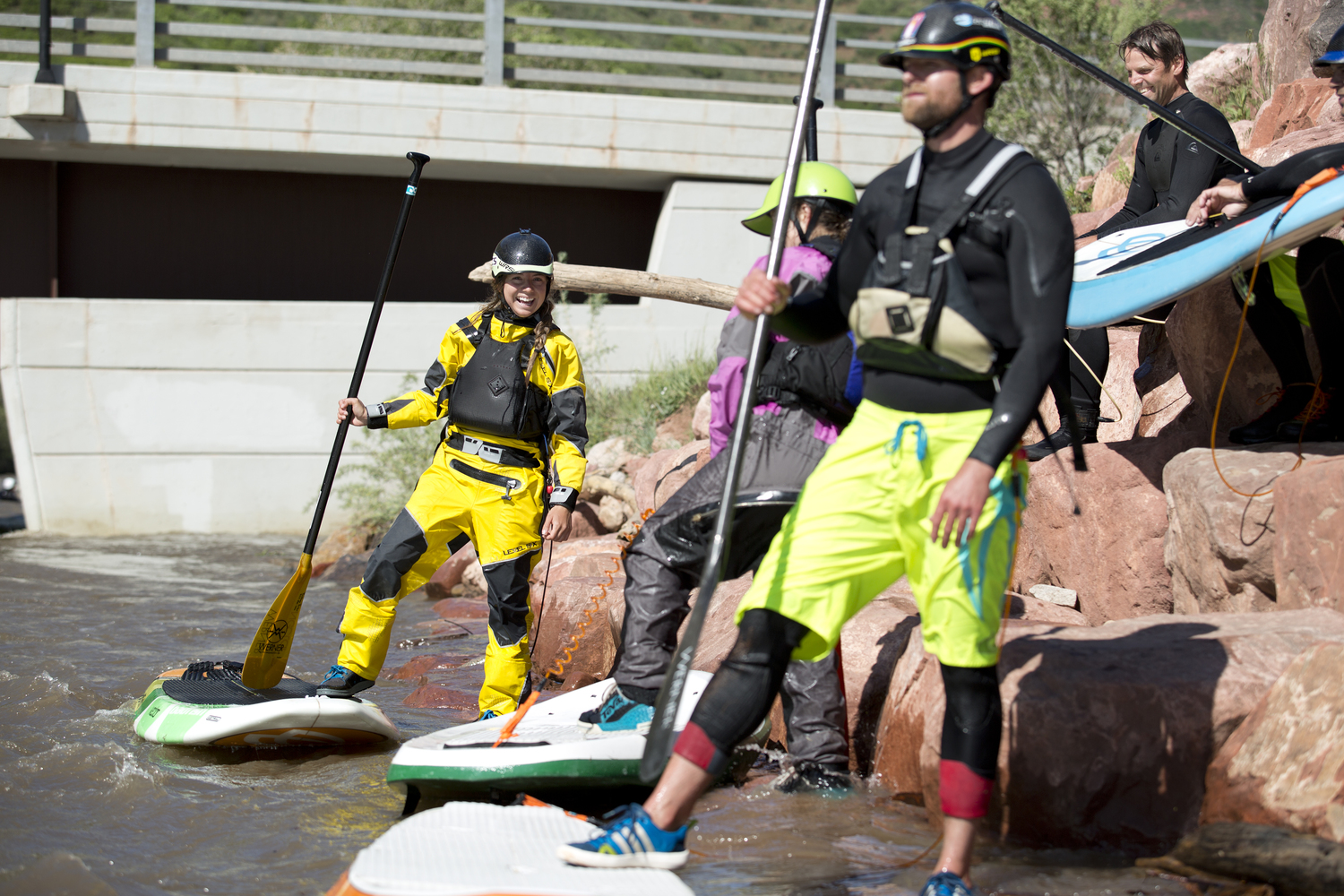 Brittany hanging in the eddy with friends
Tell me about your first time river surfing.
It was really hard. I didn't have the right equipment. It was on the Glenwood Wave when it was at record high levels (27,000 CFS). I was trying to learn in those conditions, and I couldn't even make it past the eddy line without getting washed down. I was getting worked. I gave it a few tries, then the next season when it was a lower flow I caught my first wave with the Badfish crew. I borrowed one of their boards and I was practicing going in on my knees. I was there for hours trying to get in while they were giving me pointers. Finally I got into the wave. When I got in, it was the best feeling in the world! I was hooked after that. Badfish started supporting me more, I got a 6'11 River Surfer and I was out surfing every single day.
How did you decide to make the Can I Surf That film?
Can I Surf That started as a Facebook page that Claire Chappell and I put together. It was going to just be a group where we promoted female river surfers.
I've always loved adventure films and I grew up watching snowboarding movies. I've always wanted to do something like that and I'd never seen a river surfing film, so Claire and I decided to just make our own.
When Claire and I were first talking about it, we were like: "How can we do this with just GoPros?" We had no idea what we were doing or what making a movie even entailed. That's when Heather Jackson came onboard. Heather was new to river surfing, and was also going to school for video production. She had all the experience.
Initially we wanted the film to highlight women in the sport, but then it snowballed. Now we want to show the world that river surfing exists, what makes it so special, what makes it so challenging, and really highlight the community. There are so many people who have no idea you can surf rivers. I would like to see the sport grow. The more it grows, the more waves we'll build, and the more innovative we'll get with board designs.
We jumped into this without knowing what we were getting ourselves into. The fact that we were able to make this happen while Heather was a full-time college student, Claire was studying to be a PA and was a new mom, and I was an athlete that didn't make any money, is incredible. We found that anything, if you really put your mind to it, is possible.

The Can I Surf That official trailer
Where will you be showcasing the film?
The grand premier was at CKS Paddlefest. We're going to the GoPro games in Vail [Friday, June 5th], then Payette River Games [Sunday, June 21st]. After that we're onto Missoula to do a whole weekend event with the Strongwater crew. We'll show the film Friday night, then that weekend we'll do women's specific river surfing clinics.
After the tour is over, how can everyone else see the film?
We will have a downloadable version available within the next couple of weeks.
Is there another film in the pipeline?
There's another project in the works. We can't really talk about it right now. More river surfing for sure.
Tell me about the whitewater and river surfing clinics you're doing this season.
There is a clinic in Glenwood [June 10th] I'm doing with Natalie Zollinger. It will be an intermediate skill level clinic. We will limit the clinic size to 8 or so people so everyone gets the individual attention they need.
Natalie will be the main teacher for the downriver portion of the clinic. We're really trying to get people into doing more technical stuff on the river, like pivot turns, entering in and out of eddies and ferrying across the river. There will be a race focus to the clinic to help prepare people for events like SUP Cross.
For river surfing I will be the main instructor. Students will need to have had some paddling background, but don't need to have ever river surfed before.
Then in Missoula I'm partnering up with another female river surfer named Mora. We will be teaching a two day, women's specific river surfing clinic.
I also teach private river surfing lessons. If anyone is interested, they can book a private lesson or a group lesson by contacting me through my website.
What key skills will you focus on in your river surfing clinics?
It all depends on the ability level of the students. I really want to focus on connecting turns. A lot of people I've seen haven't figured out how to get their edges and fins engaged to initiate turns.
Depending on where the students are at, it'd be cool to start doing some switch surfing. If they're really advanced, then we'll do some spins and pop shuvits.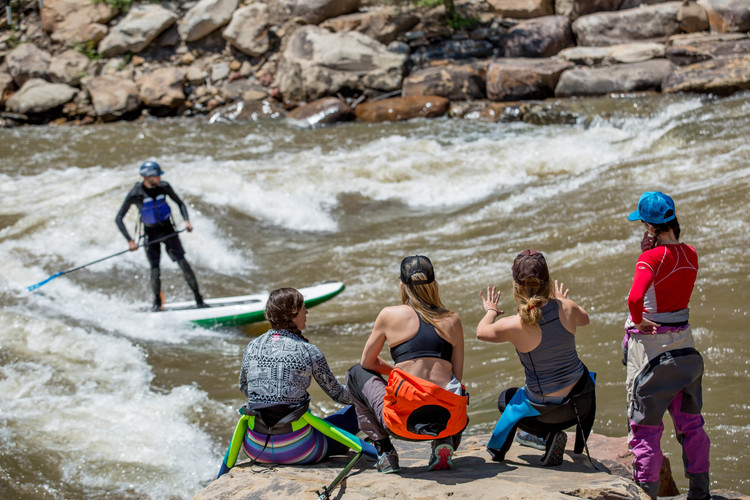 Brittany and Natalie discussing wave dynamics, scouting and terminology with students
Out of all the river waves you've surfed, what's been your favorite?
I have two favorites. I love Pipeline. Pipeline is the most beautiful wave. You can see straight to the bottom; we don't get that a lot in Colorado. You're in a canyon with trees everywhere. It gets kind of foggy and becomes like a mystical land. The wave is fast, glassy and you can really get a lot of power off the shoulder. Being a goofy footer, it's a toe-side shoulder for me. It's so fun and it's really friendly.
My next favorite is Skook. It isn't a river wave, but that's why I have two favorites because it's so unique and so special. Just surfing that wave is an incredible experience. Like Pipeline, you can see straight to the bottom. You've got billions of gallons of sea water rushing toward you. You've got jelly fish zipping by under your board. One guy had a seal swim right under his kayak. The power there is incredible, it's unlike anything I've ever experienced. We saw purple starfish, sea urchins and a pod of orcas! It's so crazy!
What waves do you want to surf that you haven't surfed yet?
I really want to surf Habitat up in Canada. That's on the top of my list. There are some waves in Europe that I'm definitely interested in. I'd love to surf the Munich wave. There's another wave that's similar to Skookumchuck, up in Scotland, called the Bitches. That one looks so glassy and beautiful and has lower consequences than Skookumchuck.
Thanks for taking the time to chat with me Brittany! If you want to learn more about Brittany Parker, attend one of her clinics, or learn about the Can I Surf That film, checkout her website: https://brittanyparker.squarespace.com/