This summer Erin and I were lucky enough to take a couple of months off to travel and river surf. Here's a quick overview of the spots we stopped. Look for more detailed posts in the near future.
Golden Colorado – The Golden Games
Our local whitewater festival! This season we discovered Bingo Hole which shaped up to be a super fun feature this season. Click here to read the recap of the Golden Game SUP surf comp!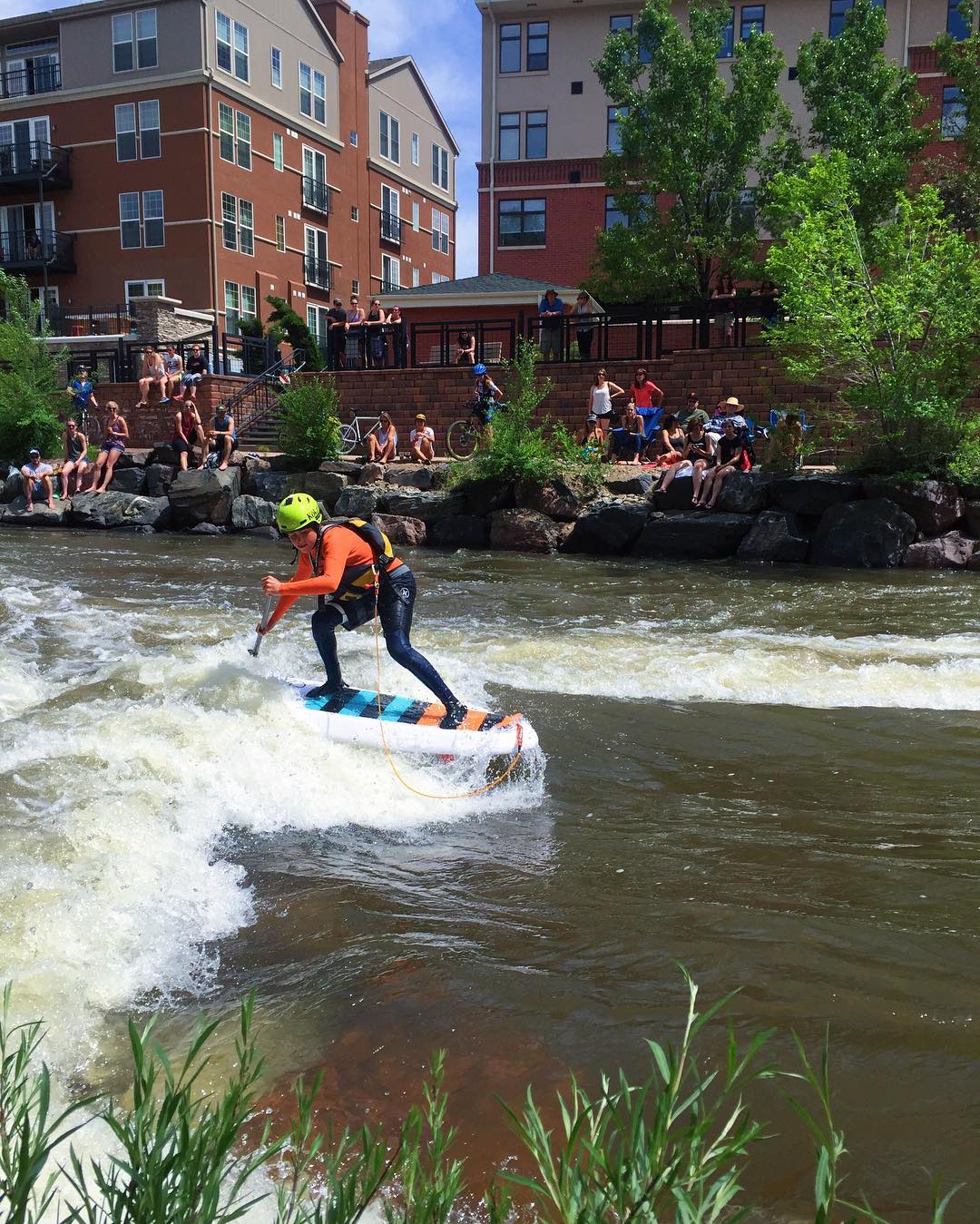 Miles Harvey mid-spin at the Golden Games
Buena Vista – CKS Paddlefest
Buena Vista and the Staircase wave is a Colorado staple when it comes to SUP river surfing. It surfs decently well at a variety of levels, and is surfable for a much longer season than other Colorado waves. Paddlefest upped their game this year by hosting a SUP surf comp. Click here to read the recap of the CKS Paddlefest SUP surf comp!
Glenwood Springs
Glenwood Springs is my favorite wave in Colorado. There are other waves that are wider, smoother, faster, or steeper, but there are few that offer a good blend of all those attributes. As with most years, we spent more days at this wave than any other spot. Checkout the following videos: 10,000 CFS session, a crowded day at Glenwood (16,000 CFS).
Durango – Animas River Days
The Ponderosa wave on the Animas River in Durango is one of the most exciting waves to surf. It's super steep, fast and bumpy! The Animas River Days is always a great excuse to visit the wave and compete with some of the best SUP and shortboard river surfers in the area. Click here to read the recap of the SUP surf comp at the Animas River Days and go here for a sweet video from one of our surf sessions.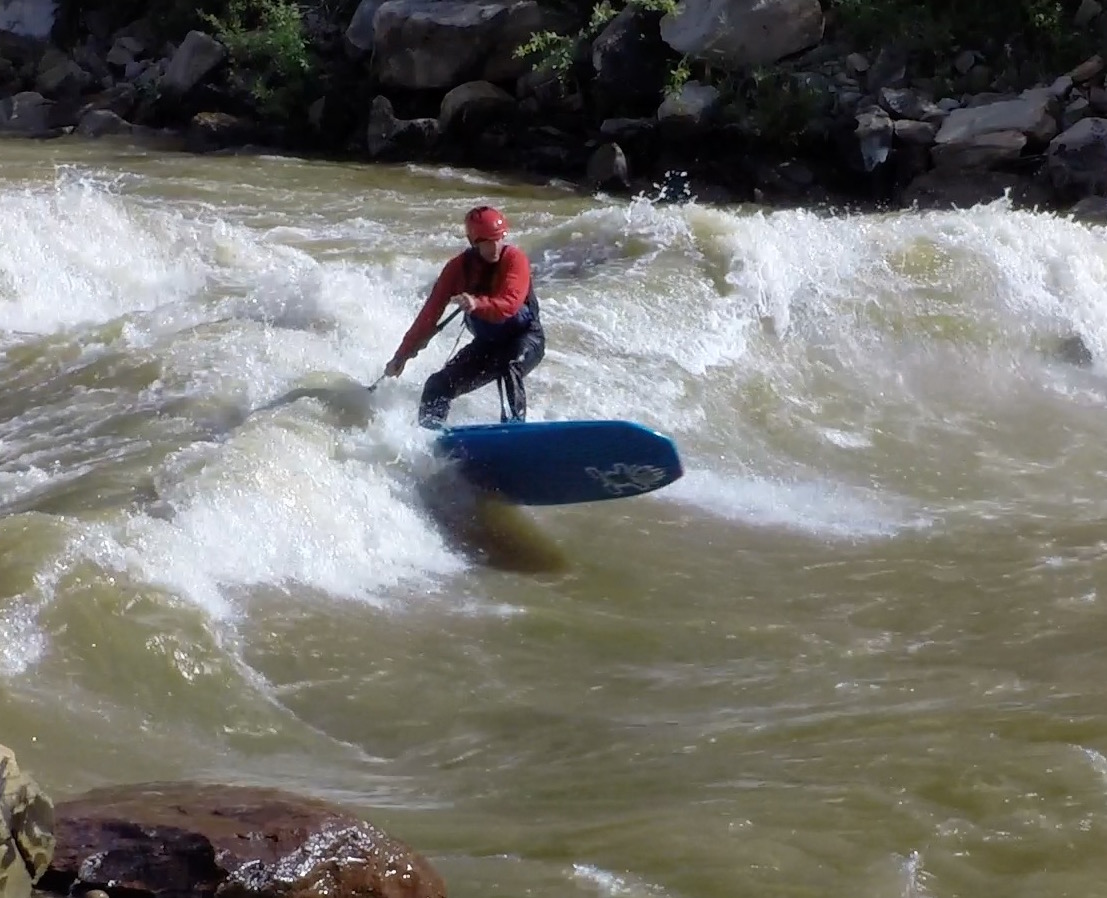 Dan Gavere tearing it up on Ponderosa
Salida – FIBArk
FIBArk marks the last of the SUP surf comps in Colorado. Scout wave is always a challenge at this event. This year the high water made it impossible to catch the wave from the eddy, and instead required dropping in from the top. It was difficult but still great fun. The comp had a huge turnout with 29 competitors! Click here to read the recap of the SUP surf comp at FIBArk!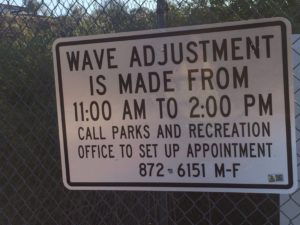 Green River, Wyoming
On our way north, we stopped at the white water park in Green River, Wyoming. Unfortunately the water was so high that most of the features were completely blown out; the waves were hardly breaking. To my surprise however, I found out they have an adjustable feature! It might be worth another look when the water is lower.
Lunch Counter, Wyoming
All I can say about Lunch Counter is: wow. I didn't think a river wave could surf so much like an ocean wave. Look for a detailed post about Lunch Counter in the near future!
Missoula, Montana
We made a little detour to hit Missoula to see what this whole "mountain surf town" hype was all about. Unfortunately I was disappointed. Check back for my post on why Missoula didn't live up to the social media image that it projects.
Boise, Idaho
What Missoula lacked, Boise made up for… 100x over. Friendly locals, an awesome surf shop and a great wave were a few of the things we loved. I'll be posting videos and a writeup on Boise soon!
Bend, Oregon
River surfing can be dangerous, but for the most part people don't get hurt. This is not the case in Bend. Not only had we heard stories before reaching Bend of people getting seriously hurt, but within 30 minutes of arriving we watched as a surfer was removed from the river on a backboard and loaded into an ambulance. Watch for my post on Bend and why we decided to only surf there one day.
Reno, Nevada
On our way back south, we stopped in Reno hoping to find some water. Unfortunately the runoff was long gone and the whitewater park was barely flowing. Nothing worth surfing.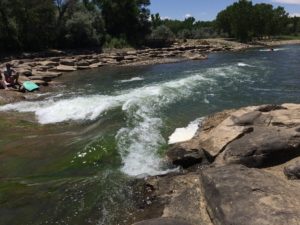 Farmington, New Mexico
Looping back to Colorado from the south, we stopped in Farmington, New Mexico. This place looks like it has promise. The water was too low to surf at the time, but some of the features looked like they had good shape to them.
Montrose, Colorado
Montrose has great little whitewater park. With a variety of features, there is often something that is good for SUP river surfing at any level. We stopped by for FUNC Fest and surfed for two days straight. Check back for videos and blog posts on Montrose!
Denver, Colorado
Completing our summer road trip, we ended back in the front range of Colorado just in time for the grand opening of the River Run Park and the adjustable wave. We got several great shortboard sessions on this wave before the flows dropped below surfable levels. Look for videos of us surfing this wave soon!